Vittoriano or Altare della Patria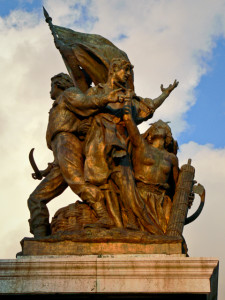 It was built to commemorate the first king of Italy, Vittorio Emanuele II, and for this reasons was called Vittoriano (Victorian).
Only later became the site selected for the tomb of the "Unknown Soldier", making it a memorial place of worship patriotic. On the monument is burning an eternal flame
Inside the Vittoriano there is the central museum of Risorgimento and shrine of the flags.
HOW TO GET HERE
Metro B, from the station Colosseo, comes on Fori Imperiali street until Venezia Square.
Metro A, from the station Spagna, walking on Dei condotti Street walking until you cross Street Del Corso, turn left and go forward until Venezia Square.
WHAT TO SEE NEARBY
Fori imperiali romani
The "domus romane" in the underground of Palazzo Valentini
Museum of Palazzo Venezia
Wax museum
WHERE TO EAT AND DRINK
There are no places convenient to eat in nearby. If you like to walk until Ghetto ebraico, there are some of the best restaurants in Rome but price are not cheap.
Otherwise take Via dei Fori Imperiali, than turn left on Via Cavour and go to the restaurant Valentino, the prices are acceptable and food are simple.
In the square in front of the Vittoriano there is a fountain with the water of Rome, it was delicious to drink.